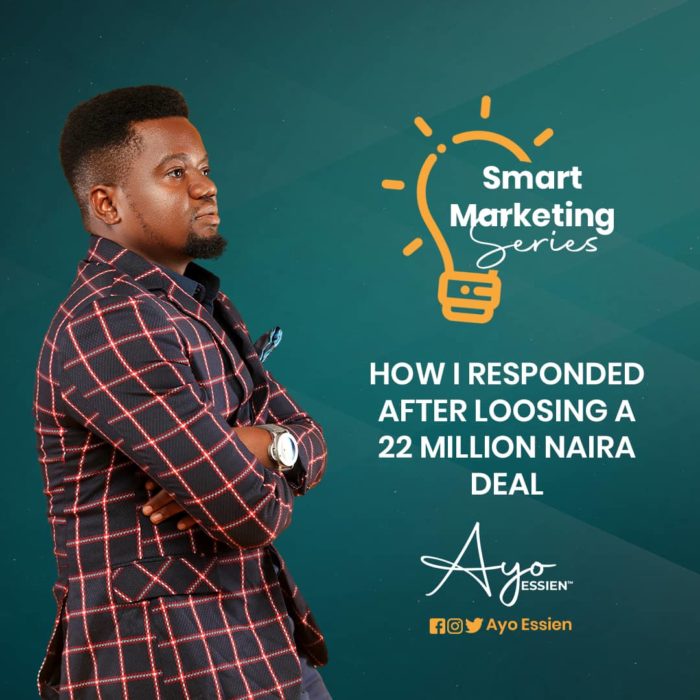 by Ayo Essien
It was a 22 Million Naira deal, my proposal had been reviewed and I'd been invited for the interview. This was that moment. I had told my pastor about it and he prayed for me that all was going to be well. My wife had ensured my only blue suit was dry cleaned. We were both excited. This was the breakthrough we've prayed and worked for, our lives would never remain the same. I finally will be able to buy the furniture we so needed in our home and finally have that honeymoon I promised her. This was mid 2018, we were just 8 months into our marriage.
On the preceding Monday, After praying with my wife and pumped up for the presentation, like a bank alert, I received a message on my phone "Mr Ayo sorry you won't be having the presentation today, we will have to reschedule to another date, Apologies for the inconvenience" well, gives me more time to prepare or so I thought to myself.
Two weeks later no call or message. I put a call through to the contact person whose IT department was in charge of the project. Hear what he had to say "Mr Ayo, I'll just be real with you, someone in top management hijacked your proposal, they have someone else who will do the Job. I'll advise you forget about this. I'm really sorry".
Wow, this one pained me.. my breakthrough has been hijacked, oh what a country. What will I tell my wife. It felt like there was a force fighting my success. I cried, Yes I did. In the midst of the tears, a voice spoke to me, if you could get the opportunity to send in this proposal, there will be many more! So be thankful for this experience and brace yourself for the other opportunities that will come.
This wasn't easy but I did just that and just 4 weeks ago we got a deal to build an Online Radio & TV for an Organization in the carribean. The deal is worth 8 Million Naira. This is just one amongst several successes I've had in the past 2 years.
See I realized even though I was a small business at the time I shouldn't project myself as such so others do not take advantage of me, so what I did and you can do too that brought this results and will do same for you are as follows;
1- I paid more attention to promoting my brand message online. I didn't care what others thought about me. Hey I had a wife and bills to pay.
2- I developed a sales & marketing funnel that kept generating leads for my business via my website and Facebook Ads. This is technical but there is an opportunity to learn it from me if you read on.
3- I devisified my income streams, by building other businesses that required me to become a SMART online marketer. Yes, we all need to have multiple streams of income. One channel is not enough.
With this strategies above I've been able to build amazing businesses that are doing so well and I believe if you have these skills you'll start seeing massive success in your finances within 3 months. You'll go from experiencing major disappointments to massive breakthroughs.
I want to teach you this skills but I need you to become a partner with me in a New Product Marketing business I'm promoting because of the value of the products they offer and the earning opportunituy. The company is is called PURE.
PURE is a United State of America organization that sells amazing health, Wellness & Fitness Products. The company recently came to Nigeria with a powerful affiliate & Network Marketing System that rewards interested partners with 25% commision for any product they are able to refer the sales.
See I've marketed all sorts, from Land to softwares to digital products etc, and I've never seen a company that says if you sell one of our products that is priced at 60,000 Naira, we will give you 15,000 Naira as profit. Plus other benefits that I can't tell you all here.
So if you are interested in being a part of this company marketing their products with me. CLICK THIS LINK, let's talk. To be a partner you'll need to buy the product worth 60,000 Naira. Afterwards you'll have their amazing products and then join me in the sales of the products.
My goal for every member of my team is to ensure each of them sells 50 units of the PURE product package between 60 to 90 Days, Now when you sell 50 units of PURE products, you'll earn over 900,000 Naira. Plus many other benefits. I've already put in place a marketing strategy to make this happen.
So Join me Now let's create wealth as well as learn ways you can become more impactful with the message of your brand or business. CLICK HERE TO FILL THE INTEREST FORM
Ayo Essien
Independing Business Owner PURE
.