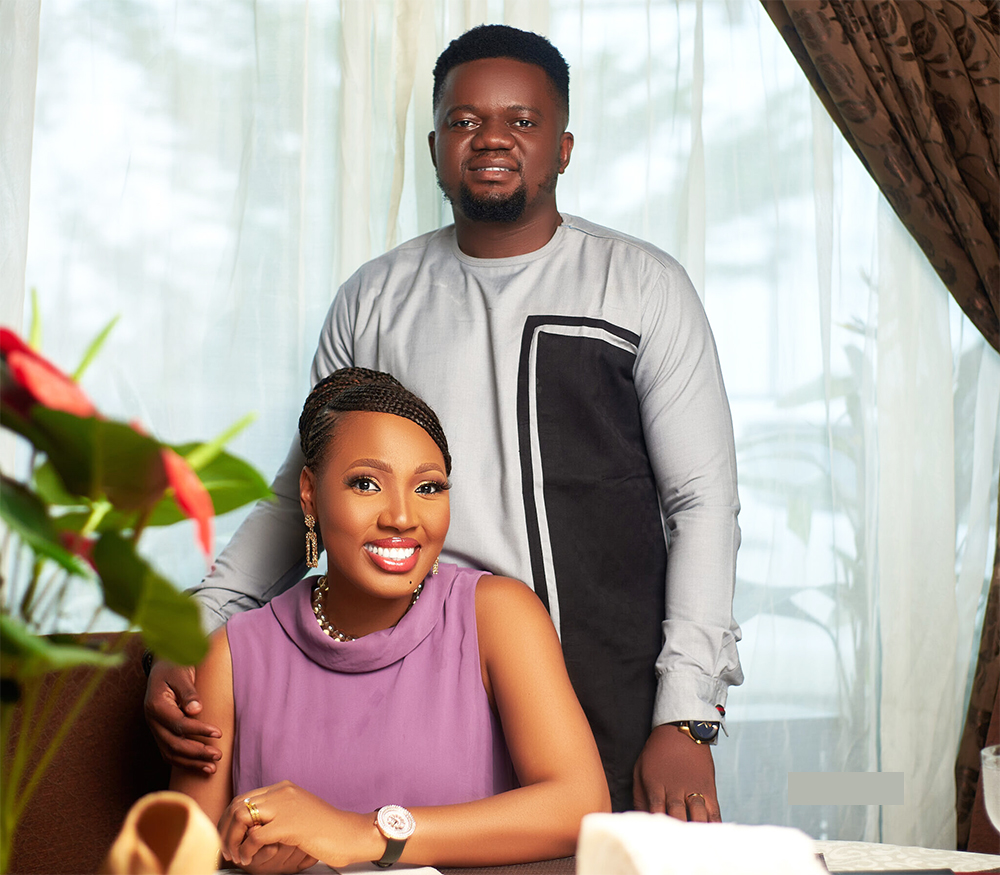 Hello there,
So glad you could drop by. So, I'm about to share with you in details a Smart Marketing Strategy I used to generate about 1.5 Million Naira in sales revenue within 90 Days for my wife's Digital Product; which was an Online Course.
The reason why I'm sharing this is because I see a lot of business owners, coaches and authors who have very good products but do not know the exact right processes to follow in other to sell them. This doesn't have to be so.
Regardless of what it is you sell, whether it is Real Estate, Health Care Services, Fashion Item, Gadgets, Food items etc. Or you sell services like Website Design, Financial Consulting, Legal Services, Network Marketing, using the Video Sales Letter Approach is a sure way to get massive sales within a short period of time.
So, How does it work? What is a Video Sales Letter and what was the process I used in delivering 1.5 Million Naira in Sales within 90 Days and how can you also deploy it too?
I'll start by explaining what a Video Sales Letter is;
A Video Sales Letter is a compelling Sales Pitch delivered in form of a video presentation, aimed at delivering valuable information to the Individual watching the the video and leading them to purchase the product or service you'll recommend in the video.
Now, it is very important you notice this two key words; "compelling" and "valuable" in the definition above.
I say this because, not every video presentation qualifies as a Video Sales Letter. For one to qualify, the video has to be compelling and also has to help the person watching get some form of value, instantly. Therefore, even before they buy the recommended product or service you made in the video presentation, they have learnt something or they have gotten some form of wisdom and so on.
In my wife's case, we had planned to use this method to generate over a Million Naira in sales, being that, it was a Digital Product; an online course, meaning over 80% of revenue will be profit, so, 1 million was good.
The first step was to create the Video Presentation. Bearing in mind the criteria that makes for a great video sales letter, she had to do the Video Presentation (3) three different times before we arrived at the one we were going to use.
Now, the Video Presentation was a screen record of a presentation where she talked about the value of what she eventually would sell. It highlighted the benefits, opportunities, her story and her journey and how what she was about to sell transformed her own life. And boom! It made an instant connection with whoever was watching.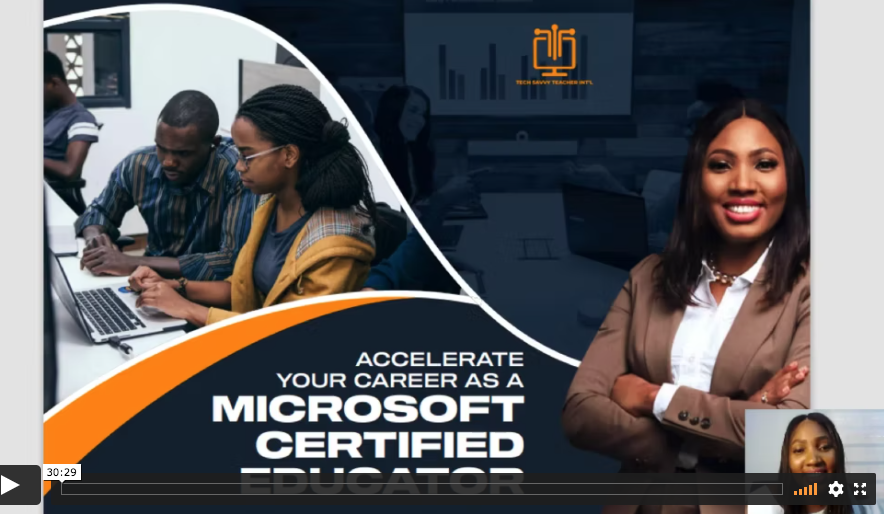 Please note that, in using the Video Sales Letter approach, your presentation has to be compelling and valuable, k can't overemphasize this. This is key to the eventual success of this method.
To do this, you first create a slide presentation of what the video presentation will be about. Here a catchy title as subject for this presentation is very key. Online design tool like Canva can be used to do this.
Next step here is to screen record the presentation with a video screen recorder tool like Camtasia. Please note that you should also capture yourself in video while recording the presentation in your screen as this will build trust with those watching.
STEP 2
After creating a stunning presentation the next step was to hook it up to a simple VSL Page, that is, a Sales page that has predominantly, the Video Presentation and then a call to action button or interest form for those who will respond to the sales call in the video, helping them easily find a way to do so .
Here is a screenshot of the Sales Page we did in my wife's case.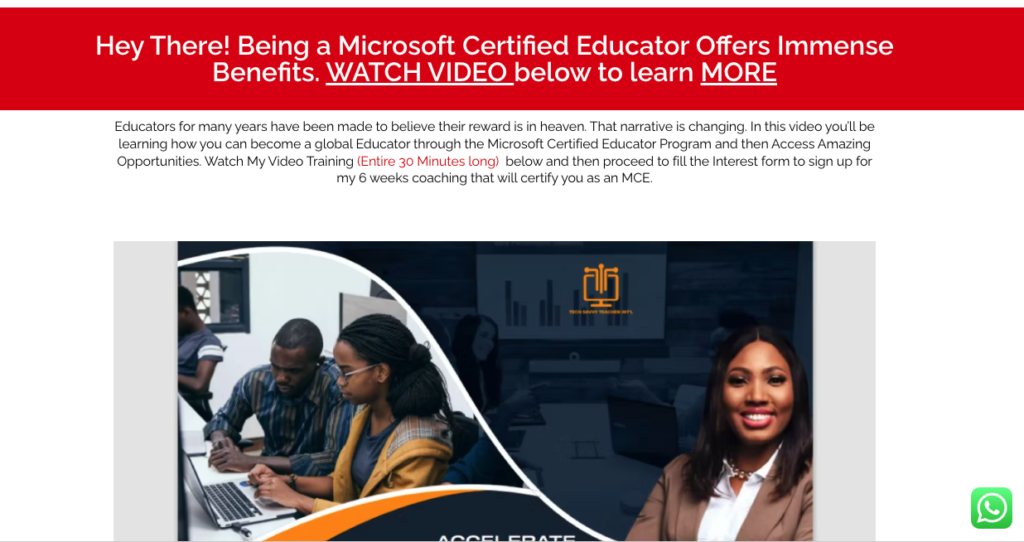 There is a form just beneath it and then a button as well.
One key element in the sales page where the video is being watched from, is the direct WhatsApp message link to connect you to those interested to reach you immediately. Caution here though, you will have to be very formal with whomever is reaching out through the WhatsApp link. A set of automated message should be sent to them immediately requiring them to take certain actions, only those who take those action should be giving attention to.
Also, since this was not a "Immediately Buy" campaign, meaning certain interested people will need some clarification. There was also a notice that that those not ready to purchase, or serious about the program shouldn't fill the form. See below.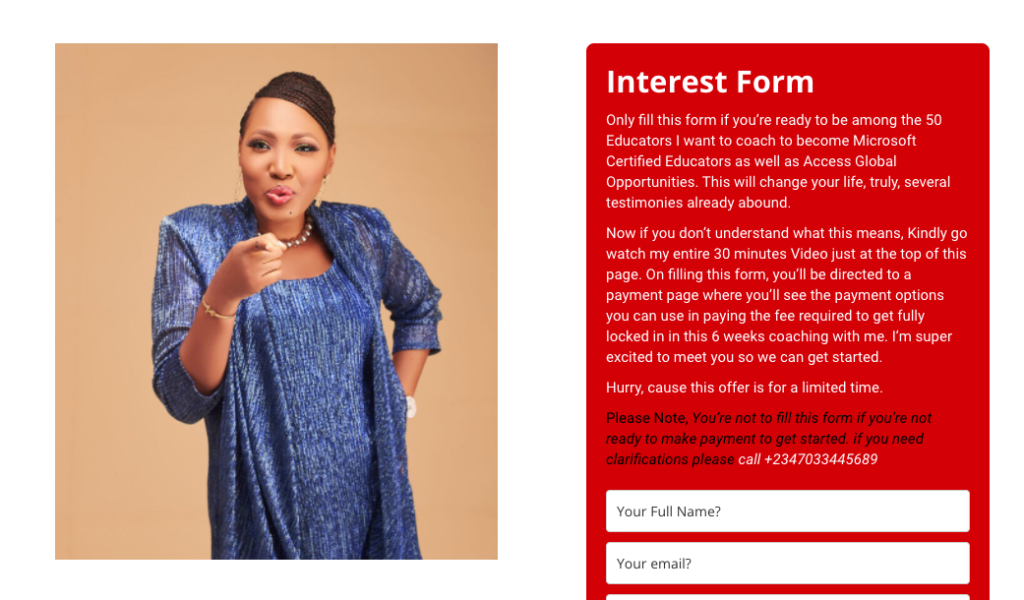 STEP 3
We have the Video Sales Letter ready. Also we've hooked it up to a sales page that will ensure conversion. The next step was to drive traffic to the sales page from Facebook Ads, predominantly.
Here, our Ad Magic strategies kicked in. We implemented a laser type targeting of potential leads who will find the video valuable. In our targeting on Facebook, we focused on the age and interest demographics to choose the conversion option. Pixel setup was implemented prior to this time and we used the eventual complete registration to target through the conversion option on Facebook, only those who are highly probable of watching entire video and completing a registration.
Facebook has a way of knowing this set of people, and we offer these insights to clients who will want to work with us and my team to implement this.
RESULT
The Ads did so well. Over 100 persons bought the product generating over 1.5 Million Naira in sales. My wife was happy and today some persons who bought the product have went on to refer others to buy for repeat sales.
Now, if you are reading this and you desire that this is also your experience or even better, there is an opportunity for you to work with me and my team to implement this and other Smart Marketing Strategies for your business.
We will build a functional website with a sales funnel for you or turn your existing website into a functional one with a sales funnel. And then guide you on the right campaign strategy with Facebook Ads that will deliver massive sales for you in 30 to 90 Days.
If this interests you, feel free to click the link below to fill the interest form so we get started.