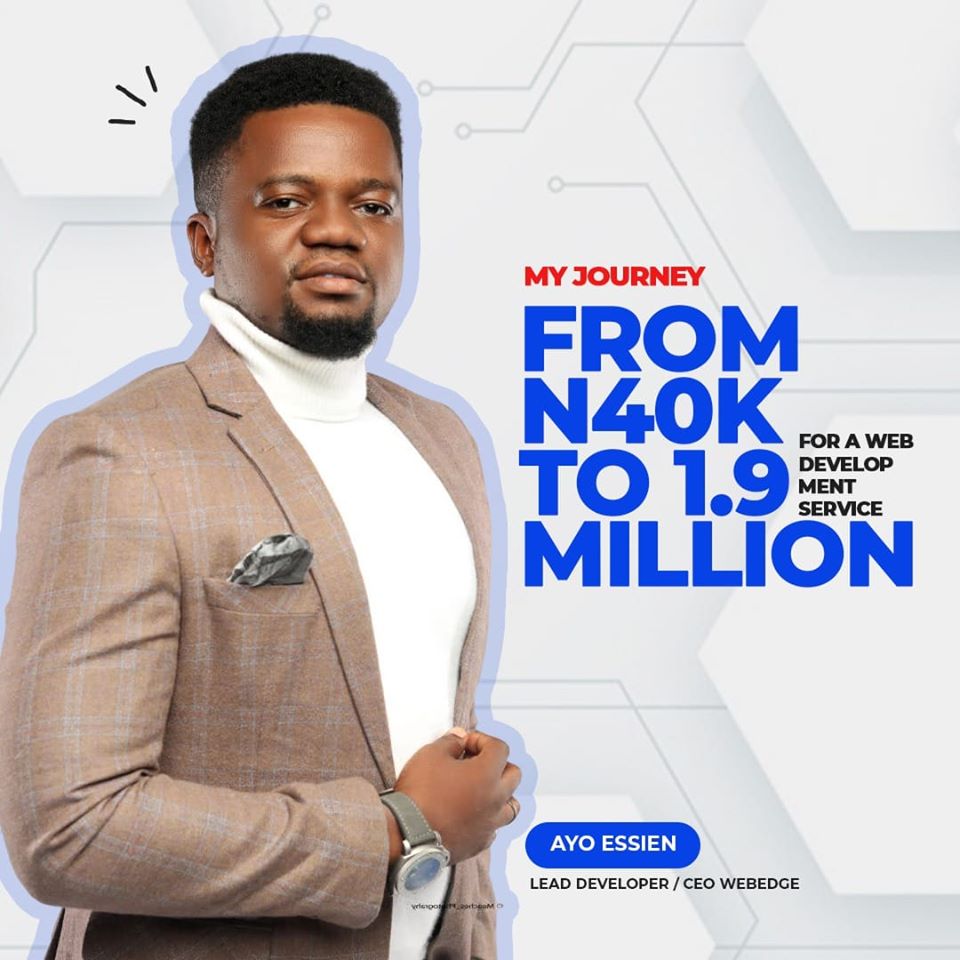 This is a long read but I feel compelled to share it as it might encourage someone out there not to give up.
About 4 years ago I came into Lagos after my NYSC experience in Benue State. Like every young person in that phase of their life, I had hopes, dreams and of-course FEARS, even though the fears seemed bigger. I remember thinking; with no connection and a second class lower result, how will I make it in this Lagos.
Then I heard a voice (I'm a spiritual person), "You have ME (God), I'll give you strategies, favour and wisdom"
So I move to Lagos, thankfully I got a Job through the help of a friend. Though pay was little (50k), transportation cost from my uncle's house in Ikotun- Ijegun where I lived, to Yaba where our office was, took a toll. After about 7 months in the Job, I to start and build my company (WEBEDGE).
"Ayo there are many web developers in Lagos, it might be difficult getting design gigs, better get a better Job" I heard this many times, like I did not try getting better paying Jobs.
At other times it was client's who would offer to pay us 20k(Naira) to build a website. Many of which I accepted in humility knowing I was going somewhere and building my catalogue of past jobs.
At some point for the most part we priced our website development service rate at 40,000 Naira even though our industry standard at the minimal was 80k to 120,000 Naira.
Then the abuse of our pricing came. "This thing is not difficult, don't pay your web designer more than 30k" some coach told their student who was a potential customer.
At one time a lady who had a growing brand offered to pay 15k for a website. We did it, but I felt sad and hurt. Will I ever earn enough to at least be stable a bit at this rate, I'll ask myself and mentors? Anyways I kept going.
I remember at some point I had no place to work from as I couldn't afford hubs, and no one was close to where I stayed. So I approached a Pastor whose land MTN had a base station hence always had power, He gave me two white plastic chairs , one for my laptop and one for me to seat inside his Church and that became my office. Mehn it was tough.
Special thanks to Thomas Okeyson a key member of my team who shared this burden.
Maybe I should just pack this thing up and go get a Job I thought many times, that voice kept saying Keep Going.
'I'm now in a committed relationship, I need to get my own apartment, get married etc.The voice kept saying "Keep Going, Learn, Unlearn, Promote).
My amazing wife now, Girl friend then would tell me "Ayo this thing people are paying you 30 to 40k for, people will pay you in millions for" don't give up, keep pushing.
My parents who double as my prayer partner will tell me "don't worry Uko, we are praying for you"
During a thinking and clarity session I had one time, I discovered what the challenge was and why we couldn't earn more. I discovered I was selling my product to the wrong market.
The market who could pay us more could only grant entry if I adjusted certain aspects of my value proposition and deploy what I call SMART MARKETING strategies for them to notice us and want to work with us. I also needed to make some strategic partnerships and network with the certain individuals who could Grant access. I also knew needed to be of help to them in some way.
Then I evaluated my personality type, I realized because of my wiring and personality I would do better marketing in some certain way online and offline.
So I began implementing these solutions and started seeing amazing results over time.
From getting a client who paid us 1.5 Million Naira for 2 Web Projects, we moved to getting one who paid 2.8Million for an IT related project and then another paying 1.9M for a Web/App Dev Project, to some others I'll mention during a live free class I'll be holding soon.
I'm not with this in any way saying my company or I personally have arrived, I decided to share this figures to help someone out there to know that SUCCESS is a PROCESS, where you are right now is not where you'll be forever.
Learn what you need to do to grow your business and then fearlessly deploy it without fear of what others would think or say.Seek counsel from people who care about you, and even when you feel people are using you, change your mindset about it, however seek your own growth path out of that situation.
Also Elevate your mind to think possibilities and most importantly HEAR GOD and TRUST HIS VOICE.
I couldn't share so many details here because this write up will become too long, but I've put together a free marketing training ONLINE where I alongside with my friends will be sharing the exact steps I'm using to grow WEBEDGE, and the business systems I'm connected with that ensures my finances grows.
If you will like to attend this free marketing online training,click this link >>> https://smartmarketing.webedge.com.ng/ to sign up.
Date is Saturday, April 10,2020.Time is 9:30am online.
Hope to meet you online.
Ayo Essien.